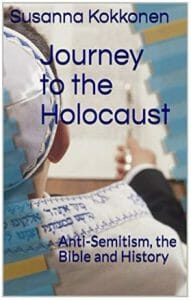 Dear Friends,
Anno Domini 2021 has just begun
We are left wondering at the world and the unpredictable times we live in. It is a time of COVID-19 but also of societal upheaval. In the Western world, we have managed to make our lives predictable and comfortable. A crisis like COVID-19 is a wake-up call because it shows that -like with our ancestors- things can change without advance warning. Personally, I am still wondering about the Lord's purposes in all this.
Looking back, what I can see is that all my travel plans were abruptly cancelled in March 2020. Despite this, it is amazing that a lot of activities took place online. For 2020 anti-Semitism related seminar videos and other information, my web site www.susannakokkonen.com has a lot to offer. This is also where I update about future events.
It is also amazing to me that despite COVID-19, my book 'Journey to the Holocaust' came out in English and is available for purchase as a Kindle version and in paperback, on Amazon sites all over the world. Should you be looking for a deep read for a history-lover or a theology / Israel oriented person, I warmly recommend ordering my book.
Since my last email, the Texas-based 'Holocaust Garden of Hope' project, contacted me. This incredibly special project is about historical facts and the Bible, commemoration and hope. There is an actual site where a permanent exhibition will be built. More information, and to receive a newsletter: https://holocaustremembranceassociation.org/holocaust-garden-hope/ I am very humbled and excited about my new role as a consultant and hope to be able to share more during 2021.
At the beginning of 2021, we will once again be commemorating WWII and Liberation – more specifically, the International Holocaust Memorial Day refers to the Liberation of Auschwitz on January 27, 1945. During that week, many events take place online. For UK-based friends, I will be speaking at the CFI UK Online Event on January 24 as well as the Israel Bonds UK Event on January 26 and, then again, at the CMJ UK Event on January 31. More information of these will be available directly with these ministries. Some of these events will be live via Zoom enabling some interaction and Q&A. ICEJ Italy is hosting me for their event on January 27 (in Italian). The Holocaust is still relevant in so many nations and international arenas.
Despite the challenges we face, it is my joy to wish you all a Blessed Year 2021.
With Best Wishes, Hopes and Prayers for the New Year,
Susanna